Many users have notes that they want to keep about individual items.  Sure, many of you simply keep a notebook that you take to the inspection or otherwise write in as you're browsing lots on Auctacity.com.
However, sometimes it is way more convenient to have your customized notes visible INLINE as you're perusing the site.
That's where the lot notes feature comes in.  You can add a note to any lot you want — from the lot page, or from list views such as the auction page and search results.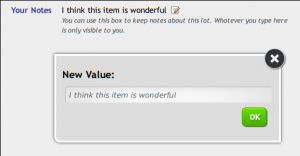 These notes are not visible to anyone but you, and are only visible when you are logged in.  If you are looking to write a note to the seller, check out the post about asking sellers a question.