Auctacity has a very useful feature called proxy bidding.  Proxy bidding, in essence, means you allow us to place bids on your behalf up to a certain amount.
For example, let's say you see a lot that has a current high bid of $10.00.  The minimum bid for this lot would be $10.50, because at $10.00, the minimum bid increment is $0.50.  But, let's say that you would spend up to $25.00 on this lot.  That's where proxy bidding comes in to play.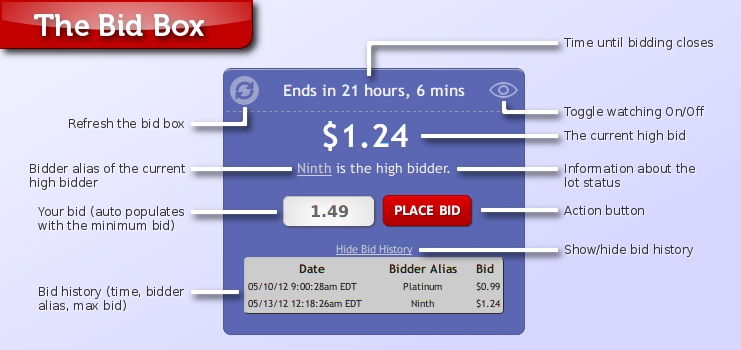 In the bid box, there is an input box where you can type in your max bid.  Just type $25.00 in that box, and click place bid.  Doing so will NOT raise the current bid to $25.00.  It will be $10.50 with you as the high bidder.  Then, if another bidder logs in and places a bid for $11.00, they will immediately be outbid and you'll still be the high bidder with a minimum bid of $11.50.
If you accidentally put in, say, $200 instead of $20, you can always change it to a lower number.  Please note that you will never be able to set it to a number less than the current high bid plus the current minimum bid increment.