UPDATE: The Auctacity Affiliate Program was retired on January 18, 2015.  This page has been kept for informational purposes only.
---
For some time, we've made available the Auctacity Affiliate Program which allows any user who has signed up and won at least one item to earn store credit just for helping us sign up new users.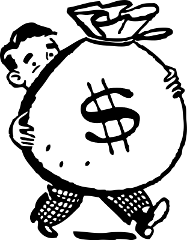 The way it works, is you generate an "affiliate" link to share with your family and friends.  When they click that link, we set a cookie on their computer that tells us that you are the one who referred them to Auctacity.  When they sign up, you get an affiliate credit.
From that point, if they subscribe to an auction, you earn 50¢ in store credit — whether they buy anything or not.  If they then DO go on to win an item, you earn an additional $5 in store credit.  That means, you can get up to $5.50 to spend on Auctacity for every single new user that you sign up.
It is so easy to do.  Just go to the affiliate program page (only accessible if you have signed up an won at least one item), and share your affiliate link.  You can even customize your URL to link to pages other than the Auctacity home page (default).
But I haven't even hit the high note yet.  If you sign up a new Auctacity seller, you will earn a 2% commission on that seller's sales for the entire first year that they sell on Auctacity (excluding their first auction). What can top that? Well, certainly the fact that the seller commission you earn is payable in store credit OR direct bank deposit!
The Auctacity Affiliate Program is a great way to earn money just for getting other people excited about the easiest, most exciting online auction site there is.  You love it, and you know your friends and family will too.  You should be rewarded for bringing us their business.